Brian Keegan – french horn, trumpet, trombone, tuba, jazz improvisation, classical playing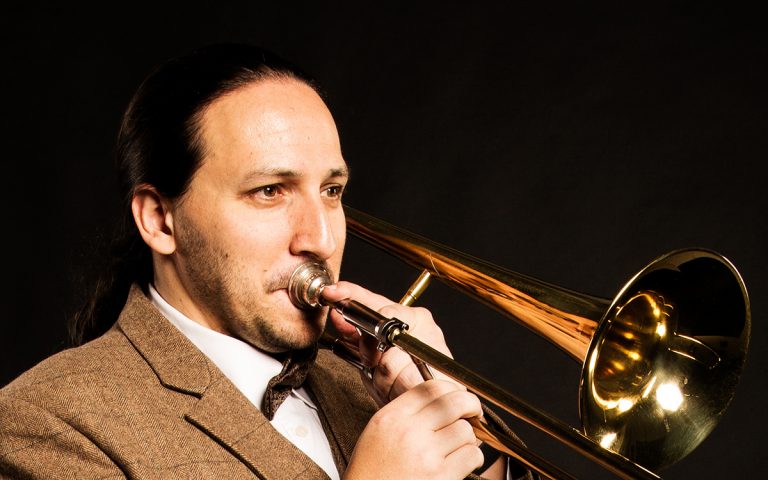 Brian Keegan is formerly a trombonist in the United States Army Field Band in Washington, D.C., the Army's premiere touring musical ensemble. While a member, he gave roughly 120 performances each year. In 2005 Mr. Keegan joined the Glenn Miller Orchestra as a featured soloist. He was a founding member, composer, arranger, and soloist for the Celestial Sliphorns, a trombone duo featured at the Eastern Trombone Workshop.
Mr. Keegan grew up in the Washington, D.C. area, where he was awarded a Bachelor's of Music Education from George Mason University. While there he studied trombone with Paul Schultz, Matt Neff, Matt Niess, and Doug Elliott, and conducting with Anthony Maiello. During this time he performed with Matt Niess and the Capitol Bones, the Smithsonian Masterworks Jazz Orchestra, and the Alan Baylock Jazz Orchestra, among many others.
In addition to performing in 49 of 50 states, Mr. Keegan has extensive international touring experience including Germany and Austria as Principal Trombonist with the Washington Symphony Orchestra, Japan with the Glenn Miller Orchestra as a featured soloist, and Portugal, England, Scotland, Canada, and Mexico with various ensembles.
Prior to winning the position with the Jazz Ambassadors, Mr. Keegan was awarded a Master of Music in Jazz Trombone from the University of Miami in Coral Gables, FL, while studying with Dante Luciani. While in Miami, he was a top-call trombonist in South Florida, performing with Frank Sinatra Jr., and the Victoria's Secret Fashion Show among many others.
In his spare time, Mr. Keegan enjoys hiking, cycling, and working with computers and technology.
Check out some demos of Mr. Keegan's playing in Media.